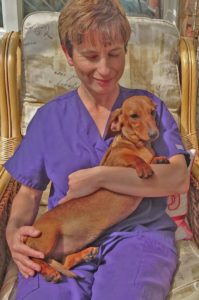 Marianne Dorn BVM&S PGCertSART MIRVAP MRCVS
Qualified in veterinary medicine from Edinburgh University, 1996.

Has many years of veterinary experience both in a hospital setting and with small animal out-patients.

Obtained post-graduate qualification (with distinction) in small animal physiotherapy and rehabilitation through the University of Nottingham in 2014.

Has good practical experience in the rehabilitation of in-patients and out-patients

Is fully-trained (to level 7) in canine hydrotherapy, including the safe use of water treadmills and pools.

Is registered with the RCVS (Royal College of Veterinary Surgeons), BSAVA (British Small Animal Veterinary Association), IRVAP and VDS (the Veterinary Defence Society).
As a veterinarian, physiotherapist and rehabilitation practitioner, my focus is on maximising the well-being and full recovery of dogs, cats and other small animals. In particular, I enjoy creating a programme of treatment tailored to each individual case, for example integrating a range of physiotherapy techniques with medical pain relief (analgesics).
My interest in veterinary physiotherapy developed when my Border Terrier, who was still a keen and interactive member of the family, became stiff and painful in his old age. Medication helped him to some extent, but reading around the subject alerted me to the importance of physiotherapy and movement/exercise therapies in improving the mobility and well-being of such individuals. I now provide veterinary care and physiotherapy not only for older pets but for all kinds of animals. This includes cats and dogs recovering from injury or surgery, sports dogs and young animals with developmental disorders.
Publications
Dorn, M. (2015). Superficial heat therapy for dogs and cats, part 1: physiological mechanisms and indications. Companion Animal, 20(11), 630-635.

Dorn, M. (2015). Superficial heat therapy for dogs and cats, part 2: using heat therapy in practice. Companion Animal, 20(12), 676-684.