Introduction to crate rest and room rest
If your dog is recovering from injury or surgery, then your vet may have advised a few weeks of either "crate rest" or "room rest". Confinement to a crate, dog pen or small room helps prevent your dog from damaging him or herself by running about, jumping on and off furniture and using the stairs.
"Your dog needs to stay safe and comfortable during recovery"
This part of the website is being developed into an owner advice resource on crate rest and room rest. Please read on to learn more about home-care for the recovering dog. For more specific advice, you can either follow the clickable links below, scroll to the bottom of the page for downloadable notes, or use the menu at the right hand side of the page.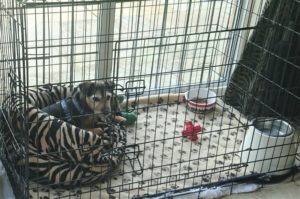 Above: This is a good-sized crate for a small terrier like Mac. He did well with this set-up, but some dogs would need a bed without raised edges.
Your dog will be in the crate, pen or recovery room for nearly 24 hours per day, perhaps for weeks at a time. This space will be your dog's world for much of this time, so do take care to set it up comfortably. For tips on keeping your dog comfortable during the recovery period, please click here.
If your dog is to recover in a crate or indoor pen, then click here for further advice. If your dog is to recover in a room ("room rest"), please click here for more information. 
For social media discussion on the subjects of crate rest, room rest and recovery, please follow the Recovery Space Dog Welfare Project page on Facebook by clicking here. All are welcome, including dog owners, vets, nurses and physiotherapists.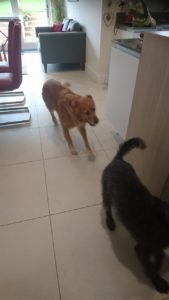 Above: Running, chasing and slick floors are too risky during recovery.
Summary of home care for the recovering dog
For safety, most recovering dogs must avoid running, jumping, stairs, ball play, rough play and slick floors. Check with your vet as to what your own dog is allowed to do.

Choose hard-wearing chewable toys for your recovering dog. Food-dispensing toys such as filled Kongs® are particularly good as boredom-busters. 
Make a regular daily routine for your recovering dog. This should include toilet breaks, feeding times, some quality time spent with you, and quiet times for rest.
Reward your dog for good behaviour with praise and small food rewards. Avoid punishing your dog during recovery.

Whenever outside the crate, pen or recovery room, your dog must be either carried, or on a lead.

A harness is better than a collar during recovery. A harness with a Y-shaped front is best. You will also need a fixed-length lead (not an extendable lead). 

Keep your fingers tucked into the harness while sitting and relaxing with your dog outside the crate, pen or recovery room.

Walk very slowly when your dog is on the lead. This helps your recovering dog to use each paw properly.
If your dog is in a recovery crate or pen…
Choose a sturdy, purpose-built crate. An open-top dog pen can be used if your dog will definitely not try to escape.

The crate should be big enough for your dog to lie fully stretched out, to sit or stand facing in a choice of directions, to yawn and stretch, to eat, and to lick or chew at toys.

Choose a position for the crate that will stay comfortable all day and all night.

If possible, get the crate before it is really needed. Set the crate up comfortably with bedding, toys, food and water before showing it to your dog. Introduce your dog to the crate gradually (over several days if possible).

When opening the crate door, take care that your dog does not try to run out past you. If you leave the dog with a harness on at all times, then its top strap can act as a safety "grab handle".
If your dog is on "room rest"…
The recovery room must be on one level and, unless you are going to lift your dog in and out, the room needs step-free access to the outdoor toilet area.

Your dog must not jump on furniture in the recovery room. Remove any armchairs, beds, sofas etc. if needed, or choose a different room.

Your dog will settle down better if you choose a room in which they are already used to relaxing.

If possible, get the recovery room ready ahead of time. This allows your dog to get used to their new situation gradually over a few days.



Unless the recovery room is carpeted, cover its floor with non-slip matting. If needed, also put down non-slip runners to cover the route through the house to the outdoor toilet area.

Above: It's healthy for dogs to stretch during recovery. The crate, pen or recovery room should give your dog enough space to stretch and to change position comfortably. 
For more information…
Try the following links for more advice on caring for your recovering dog:
For a free printable resource on "room rest", click here 
For a free printable resource on "crate rest", click here
 The above notes are PDF files, and include the following topics:
Why does my dog need crate rest or room rest?

Choosing a crate

Choosing a room for recovery

Where should I put the crate?

How to make the crate or recovery room comfortable

Bedding

Flooring

Food and water bowls

Toys

How to introduce a dog to their recovery crate or room

What to do if your dog won't stop crying

How to keep your dog safe outside the crate or recovery room

Daily routine for the recovering dog

Extra activities during recovery

Staying positive during your dog's recovery