The Rehab Vet: Services
Based in North Herts, I am an experienced veterinarian specializing in physiotherapy and rehabilitation for dogs and cats.
My treatment plans are ideal for:
pain management

post-operative recovery and return to optimal function

orthopaedic conditions

neurological disease

osteoarthritis

older animals with mobility issues

developmental conditions
Being both an experienced small animal vet and a canine/feline physiotherapist, I am well-placed to facilitate full recovery of your clients' animals. I also keep an eye out for concurrent conditions and inform the referring vet of any medical or post-operative issues. I do not supply medication, so your clients can expect to continue sourcing these from your own practice.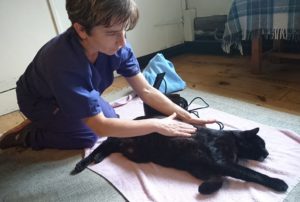 Rehabilitation and physiotherapy are fast-growing areas in UK veterinary practice
Physiotherapy and rehabilitation are now considered the standard of care post-operatively, e.g. following cranial cruciate ligament surgery, fracture repair, excision arthroplasty and amputation.
Rehabilitation is the mainstay of treatment for many conditions including but not restricted to:
conservative (non-surgical management of disc extrusion/ IVDD

many muscular injuries

fibrocartilaginous embolism (FCE)

chronic degenerative radiculomyopathy (CDRM)

non-surgical cases of hip dysplasia
For older dogs and cats (a huge group of first-opinion patients), rehabilitation improves mobility, pain relief and quality of life beyond the effects of medication alone.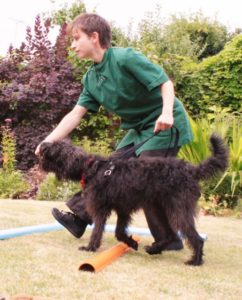 How I can help you and your clients
 Working on a freelance basis, I am happy to offer the following options to you and  your clients:
You are very welcome to refer your clients to me for rehabilitation on a home visit basis.

Depending on availability, I may be able to offer regular or occasional rehabilitation clinics within your practice and physiotherapy for in-patients. 
Please click here for costs of home visits and areas covered. Block-booked home visits, e.g. for post-cruciate surgery, are particularly good value for clients. As I am a veterinarian, my rehabilitation and physiotherapy work is covered by most good insurance policies. However, owners should always be advised to check their level of cover before the first session if they intend to claim costs back through insurance.
How to refer a patient to The Rehab Vet 
Referral is very straightforward.
Please get in touch by phone/text on 07852 625317, or send a message by clicking here, and I'll get back to you as soon as possible. Alternatively, you may prefer to ask your client to contact me. 

If either you or the client have any questions before for the first appointment, then I'm happy to discuss these over the phone or by email. 

Please forward the patient's history to me before the first appointment. An electronic copy of the pet's clinical record is absolutely fine. Any radiographs or other imaging results are also useful if available. If you have any special requests or comments to add to this, then do add a written note or give me a call. 
Cost of home visit rehabilitation sessions 
1 hour session………………………£60 (incl. VAT) 
Block of five sessions, each about 1 hour…………total £195 (incl. VAT) 
There are no hidden costs for electrophysical therapies, etc. 
The above prices for individual and block-booked sessions are for visits to the following areas: Codicote, Datchworth, Digswell, Harpenden, Kimpton, Knebworth, Sandridge, St Paul's Walden, Tewin, The Ayots, Watton at Stone, Welwyn village, Welwyn Garden City, Wheathampstead, Whitwell. For visits further afield, a surcharge is added depending on distance and travel time.
Vets: Whatever your requirements, don't hesitate to get in touch via my contact form by clicking here.