A rehabilitation/physiotherapy clinic provides excellent service for your patients and clients, maximises recovery of your own orthopaedic cases, provides further options for your debilitated older animals and is of course an additional source of income for your practice.
Qualified and experienced in both veterinary medicine and small animal physiotherapy (please follow the link for further details), I visit veterinary clinics in order to provide a rehabilitation and physiotherapy service. I bring my own portable electrophysical therapy equipment including PEME machine, low level LASER, TENS and, if appropriate, exercise equipment.
Rehabilitation clinics run most smoothly if the hosting practice can offer some basic facilities (please click on the following links for more information):
 Those  thinking of setting up a more specialised rehabilitation facility may perhaps be considering the various hydrotherapy options available. With full qualification in the use and maintenance of hydrotherapy equipment, I am happy to advise on whether or not such equipment would be a worthwhile investment for you. I can also discuss the pros and cons of pools and water treadmills and offer practical advice on their safe set-up and use.
A suitable work-space
Consulting-room: quiet location
Physiotherapy is best performed in as quite a location as possible. This enables the animal to relax during treatment and to focus on therapeutic exercise rather than being distracted by either barking dogs or loud voices. 
For out-patients in practice, I prefer where possible to use a consulting room in a fairly quiet part of the clinic, at a quiet time of day, or in a branch surgery.
For in-patients, I am generally happy to work with the animal within a walk-in kennel (and to put up with surrounding hospital noise) or in a side-room if one is available.
Consulting-room: sufficient space
For canine out-patient appointments, the consulting room should ideally have as much floor space as possible. Not only does a large room provide space for owner, patient and therapist during an extended consultation, but it enables the dog to take easy curved routes through the room without having to make sharp turns. In my experience, this helps to keep dogs calm and focused during assessment and treatment.
I almost always assess dogs (and even cats) for rehabilitation on a floor mat rather than on the table. In most cases, they relax and work with me better in this way. Temporarily moving any consulting table to the side of the room, if possible, can create extra floor space.
Space for gait assessment and exercise therapy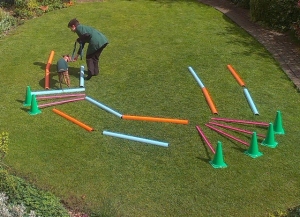 Above: An ideal outdoor space for canine "groundwork" exercise therapy
As yet, few vet practices are designed with rehabilitation in mind, so some compromise is usually needed as regards space for therapeutic exercise.
As a bare minimum, some indoor or outdoor place to perform a canine lameness assessment in a straight line is essential, e,g. a large reception space or even a corridor or outdoor path.
Further space (e.g. garden region, corner of an adjacent field, large room or, at a very quiet or out-of-hours time, a large reception area) enables me to perform canine land-based movement therapies involving exercise equipment. When using tracks, step-over poles or other groundwork equipment, it is essential to provide sufficient space for wide turns. Tight changes of direction would cause limb overloading. If sufficient space is unavailable then I set up minimal equipment or just focus on other methods of treatment.
Feline gait assessment and exercise therapies require far less space and, for out-patients, are performed within the consulting room.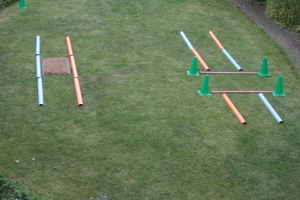 Above: The generous space around this canine exercise equipment allows for smooth turns.
Mats, towels and other helpful extras
Extra-large "vetbeds" are invaluable in the physiotherapy clinic as they provide a comfortable surface on which to perform electrophysical and manual therapies.

Towels are also useful as they can be rolled to create additional padding to assist patient comfort during treatment.

For health and safety reasons, I recommend the use of washable non-slip mats. Whether used as a walking surface for neurologically-impaired animals, or just placed under the vetbed to prevent slippage, these are invaluable.

Particularly for out-patient work, a low stool is nice to have around (though not absolutely essential) as it gives the owner somewhere to sit close to their pet during electrophysical or manual therapy.