If your IVDD-affected dog is unable to walk, then nursing care is particularly important. You might be nursing your dog at home either if he's just had a spinal operation, or as part of non-surgical treatment. Read on for some tips, plus ask your vet for advice specific to your own dog. 
When helping your dog and moving him around, you can rest assured that standing and a little walking are safe, so long as these are only attempted on non-slip surfaces. Non-slip matting and runners are very useful. Be sure to lift your dog over any slick flooring and steps, and take care that he doesn't rush off. If your dog cannot stand unaided, then use your hands to help him to keep his balance in this position. A hand under his belly will help prevent him from toppling.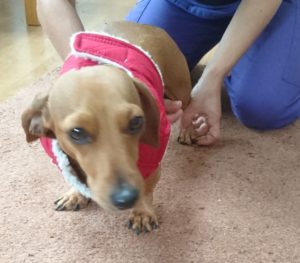 Above: A little standing is safe and can help your dog learn to walk again. This dog was not able to stand for more than a few seconds unsupported when the photo was taken. A hand under her belly stopped her from toppling. She is positioned on a non-slip runner for better footing, and she's wearing a chest harness to act as a grab-handle just in case she should try to rush off. 
Many of these dogs have sore or ticklish spots, so be patient and gentle. Think of using your hands and arms to "contain" your dog rather than digging your fingertips into his body when lifting or moving him. It can be very useful to leave a harness on the dog during the day. Some people find that the top strap of a harness  is a useful "grab handle", helping them to adjust the position of their recovering dog.
During recovery, your dog will need a large crate, pen or perhaps part of a room set up as a recovery area. There's more information on this here. 
Provide soft bedding and change it when needed to help keep your dog dry. A piece of covered orthopaedic foam with a layer of vet bed (fluffy washable matting) placed over the top is ideal. Foam padding is not essential for every dog: small breeds are sometimes comfortable enough just on vet bed so long as they are turned regularly. 
In the early stages, you may also need to place an incontinence pad directly under your dog where he's lying (i.e. on top of the vet bed) to help keep him clean and dry.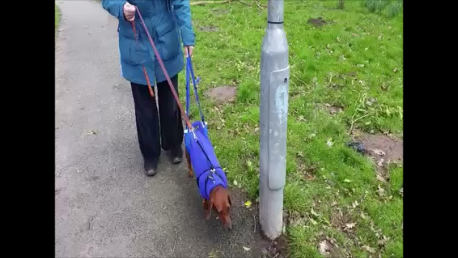 Above: Take your dog outdoors at least 3 times per day, even if only to attempt a few steps at a time. Bella's rear end is here supported by a hindquarter sling. A harness and lead prevented her front end from rushing ahead. She soon learned to walk without the sling. Photo courtesy of J.Austin. 
Take your dog outdoors regularly for toilet breaks, even in the early stages when he seems quite helpless. Outdoor time is essential for helping dogs to relearn normal toilet habits, and is also extremely important for their general well-being. You'll need to carry your dog outdoors to a suitable patch of ground, then use a hindquarter sling to support his rear end. There's  information on sling-walking here.
If your dog is unable to move about unaided, then you should "turn" him at least every four hours to help avoid pressure sores. Your vet can advise you as to whether this is appropriate. To turn your dog, don't flip him over as this may twist his spine. Instead, bring him out of the cage or pen (this is a good time for a toilet break and/or some physiotherapy, plus you might need to give him a little clean-up), then replace him so that he's lying the other way. So he could lie resting on his right side for a few hours and then on his left side. If possible, position him supported on his front for part of the day too. Keep a frequent check on your dog's skin for sores or other damage. 
Your dog might be incontinent to start with, so be prepared to wash and change his bedding frequently. He might also need cleaning at times. Don't attempt to run him a bath. Sponge him off while he's resting on an incontinence pad, non-slip shower mat or on short grass. Disposable gloves, old towels, kitchen roll, a bowl or spray-bottle of water, cotton wool padding and unscented baby wipes may all come in useful. Take care to dry him off very carefully, especially between any skin folds.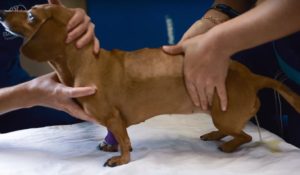 Above: Your vet may advise you to express your dog's bladder at home.
Some severely-affected dogs need their bladder expressed at home (squeezed out), especially in the early stages of IVDD. Ask your vet whether this applies to your dog and, if so, how often you should be doing this. There's more information on bladder expression here.
Massage and range-of-movement is good for these dogs if done gently and safely. Ask your physiotherapist to teach you the necessary skills. Basic exercises (e.g. standing practice) are essential for the IVDD-affected dog, and are best started early. Again, ask your physiotherapist to show you how to get started. 
Nursing care: Some issues to watch out for
Urinary incontinence Some IVDD-affected dogs are incontinent to start with. The bladder tends to become over-full and then to overflow. It's not your dog's fault, so don't scold him for indoor "accidents". Your vet may advise you to express your dog's bladder, to add in some special medication for the bladder or, in more severe cases, your vet may need to admit your dog to pass a urinary catheter. Despite these measures, incontinence may still be a problem. It's useful to continue taking your dog outdoors for attempts to pee (you'll need to support him with a sling), and to persevere with physiotherapy exercises to help him learn to stand. If the incontinence seems to be getting worse, then book to see the vet and, if you can get one, bring a urine sample. Some of these dogs get a urine infection that makes the problem worse. 
To help cope with the incontinence problem, some owners buy belly bands (for male dogs) and/or dog nappies. These help to keep indoor surfaces clean but, at least in theory, might reduce the chance of your dog learning to pee normally again. If you do resort to using belly bands or nappies, then continue regular outdoor "toilet breaks", and of course, remove the band or nappy for these.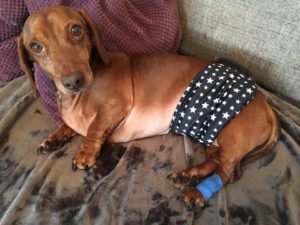 Above: Dave showing off his very smart belly band. Photo courtesy of Justine Grieg.
Faecal incontinence It is of course very frustrating if your dog poos indoors. Some severely-affected dogs have poor bowel control. This sometimes improves once the dog can balance better in a standing position, though unfortunately some dogs do remain incontinent. It's not your dog's fault, so don't scold him for indoor "accidents". The surest way forward is just to continue taking him outdoors to try and poo regularly, and to support him in a standing position when he's out there. In some cases, it can help to change the diet gradually to an easily-digestible complete dog food containing good-quality fibre. Ask for your vet's advice on diet and medication.
Skin sores Pressure sores can happen if the dog is unable to get up and is not "turned" regularly. Skin can also get sore if not kept completely clean and dry, especially if the dog is incontinent. Nursing care is essential in preventing this, including bedding, turning and cleaning (see above, "nursing care"). Check your dog's skin regularly for pink/red patches, swelling or fur loss. Clean and dry any suspicious areas straight away, and ask your vet for advice.
Sores can also appear on your dog's legs or paws if he moves by dragging himself along. Again, these should be checked by the vet. For prevention and to allow the sores to heal, do your very best to prevent your dog from dragging himself around. Set him up in a pen with soft flooring and bedding. Whenever outside the pen, he should be either carried, or on a lead with his hindquarters supported by a sling so that his paws do not scrape along the ground.
If you are managing your dog as permanently-disabled, then you may need to protect his paws with non-slip dog socks and perhaps consider using a canine drag bag to protect other areas of skin when he's indoors. Socks and other paw-coverings are best avoided for long term use if you expect your dog to walk again. Drag bags should definitely be avoided if you hope that your dog will walk again. They encourage the dog to drag himself and discourage walking.