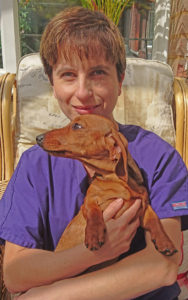 I'm always happy to discuss veterinary rehabilitation options. If you are an animal owner, veterinary professional or have a general question, then please contact me by completing the form below and I'll get back to you as soon as possible. 
If you are booking an appointment (or wondering whether I can help your animal) then please try to include the following in your message:
Your animal's name, age, sex and breed

The name of your usual vet (if your animal is already registered at a vet practice).

A few words explaining the situation (e.g. "recovering from cruciate surgery" or "she's getting old and I'm worried she may be in pain").
I shall then get back to you to advise as soon as possible, almost always within 24 hours. If you are already registered with another vet then it is generally straightforward to organize a referral from your pet's usual practice.