Why use a harness?
A good walking harness is generally far better than a neck collar during recovery from injury or surgery. A good harness fits around the dog's chest, with the main lead attachment close to the dog's centre of gravity. This is the best set-up for keeping the dog safe should they pull or lose balance.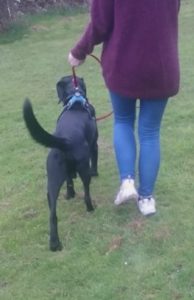 Above: Otis the strong young Labrador was kept safe on a harness and lead during management of a leg fracture that had occurred in puppyhood. He pulled less on this system than he did when the lead was attached to a head-collar. 
The top of the harness acts as a safety "grab handle", i.e. you can get hold of this without pulling on your dog's neck if your dog tries to run unexpectedly. Unlike a neck collar, a harness avoids the delicate neck structures including the windpipe.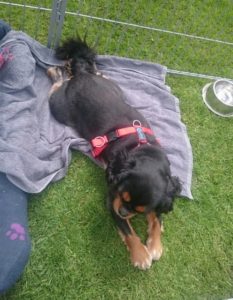 Above: During recovery from cruciate surgery, Bella would try to zoom out of her recovery pen when its door was opened. The easiest option was to leave her harness on at all times. We could hold Bella safe by grabbing hold of the top of her harness on opening her pen door. This is a Mekuti harness. We eventually cut the side rings off the harness as they served Bella no purpose.
If your recovering dog is really weak and wobbly, then you can safely use the harness to help support their whole front end. This is really useful if you have to help your debilitated dog get up out of bed or, for stronger dogs, for helping them in and out of the car or back and forth to the garden. 
On a good harness, the clip for the lead is much further back than on a neck collar. This helps your dog to distribute their body weight more evenly, a factor key to recovery for many conditions, including most spinal disc problems, many cases of hind limb lameness (especially cruciate disease and patellar luxation) and front limb lameness.
A harness gives your dog freedom to move their head and neck as they wish, even when restrained on a short lead. This allows your dog to look about, to sniff the air and sniff the ground, all natural canine behaviours.
Choosing a harness
The harness should fit comfortably without pinching anywhere around the shoulders, and should not extend further back than the dog's rib-cage. 
So as not to constrict the shoulders, the best designs generally have a Y-shaped front rather than a T-shaped front.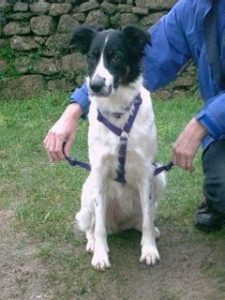 Above: The Mekuti harness is a good design for many dogs. Note the Y-shaped front.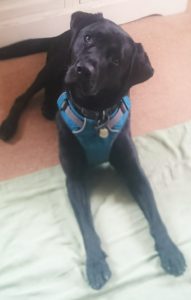 Above: Otis the young Labrador did well with this sturdy harness. Again, it has a Y-shaped front so that the straps do not cut across his shoulders or elbows.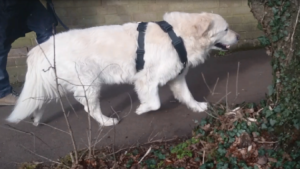 Above: The Perfect Fit harness is another good design that does not interfere with shoulder movement.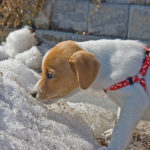 Above: This type of harness is not ideal during recovery. The straps pinch and constrict the muscles above the elbow. A front view photo was not available, but this harness would have the shape of the letter "T" if viewed from the front. 
In choosing a harness, also consider how easy it is to take it on and off. Many dogs do better with a harness that they don't have to step into, i.e. the easier designs tend to go on over the dog's head, with straps that then buckle up on either side of the chest. Some dogs dislike anything being put on over their head, perhaps because they have neck or ear pain for example. If your dog is "head-shy", then choose a harness with a neck clip to avoid this problem.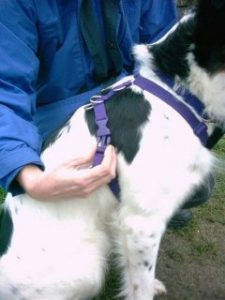 Above: Look for a harness that has side clips, as this design avoids the dog having to step into the harness. It is tricky and uncomfortable for some recovering dogs to stand on three legs when stepping into a harness. This photo shows a Mekuti harness. If your dog is head-shy, then choose a design that also has a neck clip. 
During recovery, it is best to avoid those "no-pull" harness designs that tighten uncomfortably around the dog when they pull. 
I tend to recommend two types of harness for my own patients, though there are other good designs available:
The Mekuti harness, from its small to extra-large size, has a good Y-shaped design, is adjustable and hard-wearing. It can be ordered with an optional neck-clip. It comes with side-rings which are rarely if ever needed during recovery. Important: Contrary to the instructions that come with the harness, I generally recommend not to loop the dog's lead in front of the chest and through the side-ring(s) as a no-pull system during recovery. 
The Perfect Fit harness has a good Y-shaped design, is quite plush and fleecy, and comes with neck clips as standard. The various harness sections (top, front and girth) can be bought individually to offer a good fit for most types of dog. This is particularly useful for those tricky-to-fit tiny toy breeds, whippets, greyhounds and other dogs with special fitting requirements. 
Both of the above designs are suitable for use with a double-ended lead, this being a bonus during recovery if you have someone to teach you how to do this. Many recovering dogs benefit from being walked on a double-ended lead as this improves their balance and coordination.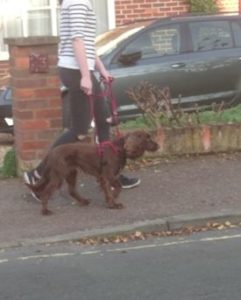 Above: Jesse walking nicely on a Perfect Fit harness and double-ended lead.
You may be interested in the following link: