Many owners feel frustrated at times when their dog has to be confined to a crate. If this applies to you, then you are not alone. Keeping your recovering dog safe and comfortable is quite a challenge.
Caring for yourself will help both you and your dog, as negative emotions easily pass from us to our canine friends. 
Some tips to help you stay positive:
Do start a regular routine for your recovering dog. Be sure to include particular times of the day when he or she should learn not to expect any interaction from you. Dogs need some rest time during the day, so don't feel guilty about this.
Remember that quality time spent with your dog does not have to be time spent walking together. If your dog has always chosen to come and sit with you, then make a point of simply relaxing quietly together at some point each day during recovery. You can sit together on the sofa if this is what your dog is used to, perhaps while reading or watching TV. Be sure to lift your dog safely on and off the sofa, and restrain them safely at all times: It will soon become second-nature to keep the fingers of one hand tucked around one of your dog's harness straps just in case your dog has the impulse to jump or run.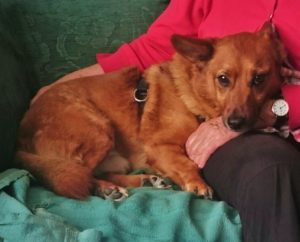 Above: Harry and his owner enjoy sitting together each day. If sofa time is important to you, then ask your dog's physiotherapist to show you how best to lift and hold your dog. 
If your dog is too large for you to lift, then sitting on the sofa together is not an option (because your recovering dog must not climb or jump on or off furniture). In that case, try putting blankets or an old quilt on the floor for you both to sit on together. Or your dog may be content to rest at your feet while you relax in your favourite chair. Keep your dog on a lead even while he's relaxing with you – then you won't need to worry about him dashing off if the doorbell goes.
Physiotherapy exercises and prescribed massage can give you and your dog something good to focus on together each day. Ask your vet for referral to a physiotherapist who will be able to teach you what is required.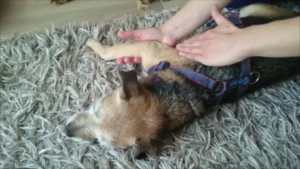 Some dogs recover faster than others. Remember that it's not a race to get better, so don't feel bad if your pet is not recovering day by day quite as quickly as someone else's. It's quite normal for recovery to be gradual, and for there to be "plateaus" (a few days during which the dog doesn't seem to improve). 
Even if your dog is not allowed to walk far during recovery, do continue to make a point of getting plenty of fresh air and exercise yourself. For smaller dogs, a dog pushchair is an option. Choose a design that can be used off-road, so that you can continue your own usual walking regime without over-exerting your dog. Lift your dog out of the pushchair for the few minutes of exercise that they are allowed.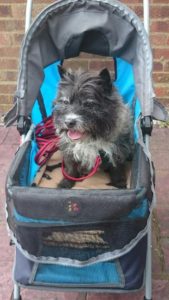 Above: Charlie the Cairn terrier used a dog buggy while recovering from cruciate ligament injury. Charlie's owner was very keen to keep herself active, and Charlie enjoyed a change of scene. The buggy clips attached to the side rings of her harness to keep her safe (not visible in this photo). 
In mild dry weather, you may be able to relax outdoors or do the gardening with your dog in an outdoor enclosure. This gives you both a chance to enjoy some fresh air. Some recovery crates and pens can be easily reassembled outdoors for temporary use on grass. Position the pen with at least one end in the shade, and be sure to have water available for your dog at all times.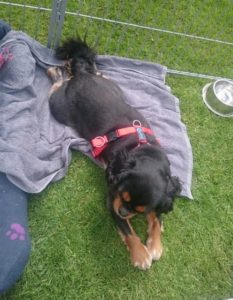 Above: Even if walks have to be short, there are other ways to spend time outdoors with your recovering dog. Bella's pen was easy to reassemble outdoors now and again, so both dog and owner could get some fresh air. 
If you are feeling isolated, then consider joining an online support group for owners of recovering dogs. The dog-owning community is typically happy to welcome others into a group and to offer moral support. Practical tips may be offered on dog forums, but be aware that not all of these will be safe or relevant to your own dog, so always check with your vet before making any major changes to your dog's regime.
Now and again, consider either getting a friend to take over dog-minding duties, or employing the services of a pet-sitter or dog-walker. Do go through exactly what is needed with them in advance though, as your dog's safety is important. It's  best to arrange care on a one-to-one basis so that the recovering dog doesn't end up rushing around with other dogs. 
Make good use of the veterinary team: most practices have staff who are very knowledgeable and caring. Your vet or surgeon is not only there to answer any health-related questions, but can give you initial home care guidelines for your dog's recovery, including "do's and don'ts", how much to walk your dog each day, and advice on diet. Your vet can refer you to a physiotherapist or rehabilitation specialist who can organize a detailed and safe daily routine for your dog from day one and give you plenty of ongoing advice relevant to your own home environment. If you're lucky, you may have kind  receptionists at your clinic – say hello at each visit, and they'll be interested to hear how you are getting on, and can be great for moral support.  If you are particularly concerned about your confined dog's behaviour, then ask your vet for advice and, if needed, consider requesting a referral to a rehabilitation or behavioural specialist sooner rather than later.
For more information…
Try the following links for more advice on caring for your recovering dog: